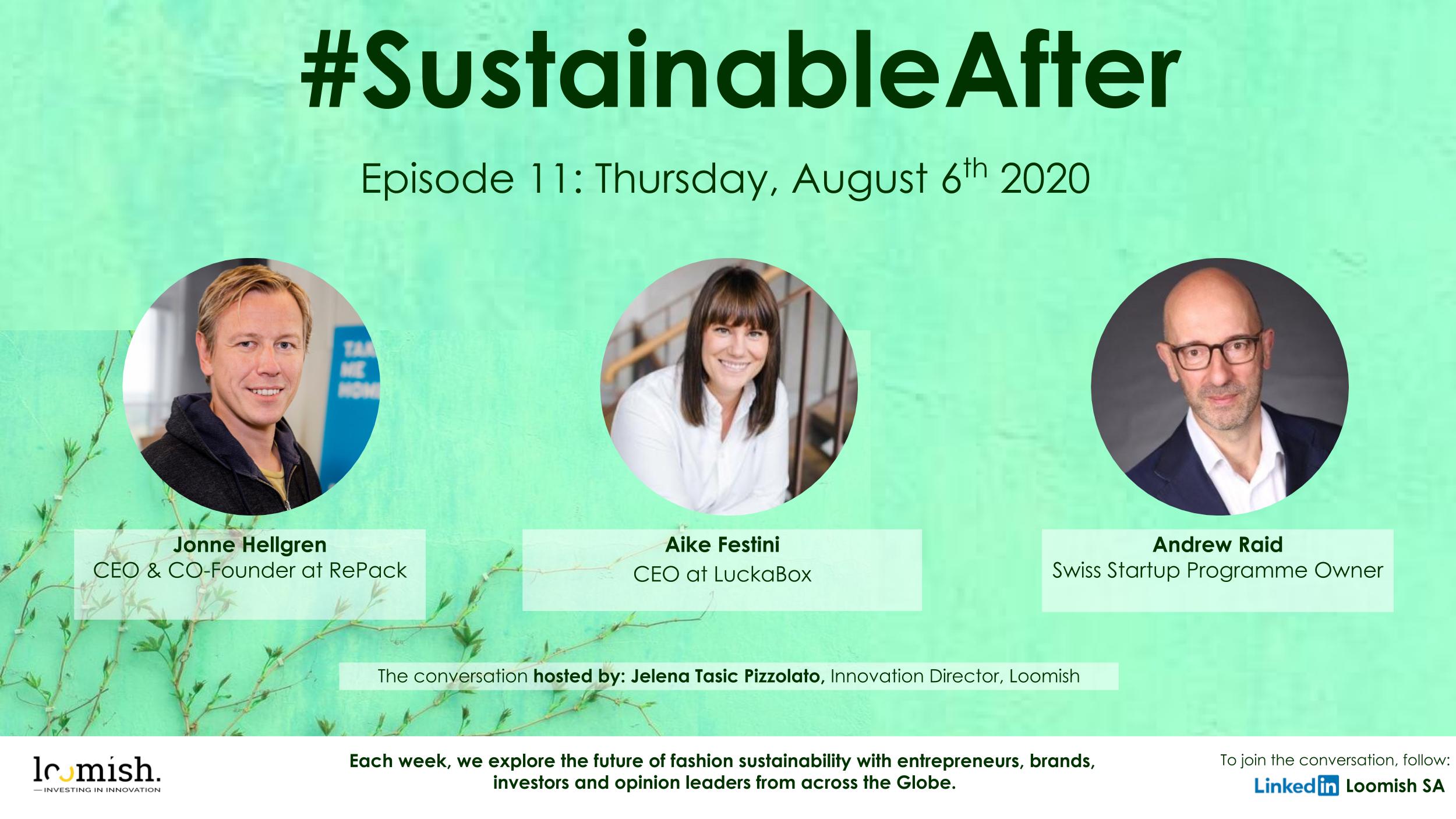 #SustainableAfter, Episode 11
So you've got a great Fashion start-up idea during the lockdown? Here's something to help you launch
The year 2020 was supposed to be the "Annus Mirabilis" of fashion sustainability. Then the pandemics turned our worlds upside down.
If you used the lock-down wisely and are now working on launching your fashion tech start-up idea, tuning into this conversation could help you refine your idea and launch efficiently.
As a part of Loomish's #SustainableAfter series, we explore the ways the Covid-19 crisis could actually serve as a catalyst for change in fashion. Combining insights and experiences of two successful entrepreneurs and a corporate leader working in the Big Tech, in this multi-national webinar panel we go deeper with our international panellists:
Aike Festini, CEO at LuckaBox, Switzerland: Experienced and ambitious business leader innovating the logistics and supply chain industry.
Andrew Reid, Swiss Startup Programme Owner and General Manager of Services & Support EMEA at Microsoft. With over 20 years of career with Microsoft, Andrew is a seasoned International Leader, enabling major customers to digitally transform.
Jonne Hellgren, CEO & CO-Founder at Re-Pack, Finland. Re-Pack is a scale-up that has created a globally unique reusable packaging service.
Moderator: Jelena Tasic Pizzolato, Director of Innovation Scouting and Deal Flow, Loomish, Switzerland.
This conversation will give you some fresh insights into:
– Precious advice for aspiring b2b Fashion Tech entrepreneurs entering the industry (the last question!)
– Microsoft's $500 million initiative to help start-ups create, develop and market enterprise-level software and – most importantly – how you can become a part of it
– Major ways in which technology could reinforce consumer-related businesses going forward, making them more resilient
– Success factors in last-mile fashion tech as shared by the two founders
– What role could joining "an ecosystem"/award/accelerator play for a start-up's positioning and business development
– What can each of us do in order to ensure that sustainability remains high on the agenda, despite the crisis
Listen to the full conversation here>>>>>