#SustainableAfter, Episode 6
Meet two Forbes 30 under 30 alumni taking on fashion sustainability
Here's how fashion brands can get better structured for what comes next
Jelena Tasic Pizzolato, Innovation Director at Loomish in conversation with:
Irene-Marie Seelig, Forbes 30 Under 30 Sustainability & FashionTech Leader, Speaker
Robert Luo, CEO at Mi Terro/ Forbes Under 30 Scholar


—
Meet Irene-Marie and Robert.
Both based in California, both the alumni of the prestigious Forbes 30 under 30 list, both entrepreneurial spirits taking on some of the biggest issues of fashion sustainability.
Yet, this is the first time they meet, brought together for the first time by Loomish's Fashion Innovation Award and the #sustainableafter interview series.
TO REDUCE POLLUTION, WE NEED A HOLISTIC VIEW: HOW FOOD AND FASHION CAN GO HAND IN HAND
Robert Luo is an alumnus from the Forbes Under 30 Scholar list and a Global Shaker. A serial entrepreneur with already 2 successful exits at his belt, Robert is the Founder and CEO at Mi Terro. At Mi Terro, they found a way to create sustainable fibres out of milk waste, tackling in a significant way both the food waste and textile sustainability issues.
Indeed, a quick look at the Mi Terro website shows, their two biggest clients, respective giants in the food and fashion industry: Danone and Nike.
"In order to reduce pollution in fashion we need to look holistically," explained Robert, adding: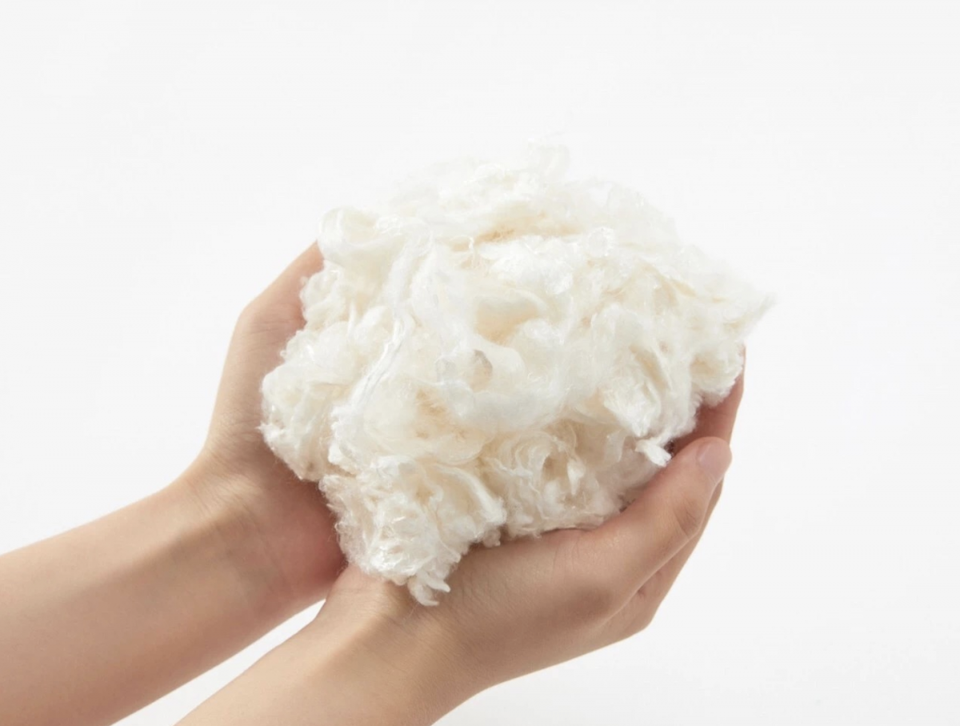 "Internally, we call ourselves a triple impact company: we want to reduce food waste, we want to make sure that food waste can be turned to good protein again, which can essentially reduce hunger and help people in need. But we don't want to stop there – we want to make sure that food waste is given new life that can be turned into product that we can use or wear."
The Mi Terro technology has the potential to help big food conglomerates address two of their burning issues in one go, namely food waste and carbon emissions.
"Did you know that one-third of the food we produce around the world goes to waste every single year? And of that, 128 billion tons of milk are being dumped every single year. Just that alone creates 3.3 billion tons of greenhouse gasses," explains Robert.
Finding a scalable answer to the food industry's pain points is no mean feat. But it gets better.
Robert and his colleagues found a way to transform this waste into a durable, biodegradable silk-like fibre for the fashion industry.
Why should brands be interested in this technology?
"There are three components. First, there is the price: our fibre will cost less than bamboo or organic cotton. Plus, we use 6% less water than organic cotton. The second is the performance: because milk itself has amino acids, it's great for people that have skin allergies, so it is perfect for usage in underwear and leisurewear. The last thing is messaging: how can these companies portray themselves as more sustainable? Being part of turning food waste into something sustainable, biodegradable and useful for multiple industries," underlined Robert.
THE POWER OF A COLLABORATIVE EFFORT AND INNOVATION
Irene-Marie Seelig describes herself as a Sustainability & FashionTech leader, which she has confirmed to be on multiple fronts.
She has seen fashion sustainability both from a corporate and start-up perspective. She has worked for some of the most acclaimed brands in the sustainability arena, including Stella McCartney and Swarovski, successfully launched her award-winning start-up and consulted several international brands on carbon emissions and approaching sustainable development goals.
"Sustainability is not something that brands can do individually; it requires a collaborative effort. For instance, when it comes to carbon counting or water usage, it is really important that we come together and open-source that data, so that we can start measuring progress and take important industry decisions together, such as which materials to start replacing on the industry level. That would be beneficial for everyone involved," says Irene-Marie.
In 2018 she was selected to join the Forbes 30 Under 30 for "creating the products, methods and materials of tomorrow", which she did through her start-up Amadou, a vegan alternative to leather. The material made of Amadou mushrooms also earned her the acclaimed Kering Award.
"Amadou vegan leather feels exactly like suede or short-haired mink, it is very soft. I used the technologies from the leather industry that they currently use to start prototyping and then I worked with a shoe designer at Stella McCartney who created a hand-made shoe. It moulded perfectly."
Irene is currently looking for scientists to help her improve the durability of the material, while in parallel working on her next venture in the digital fashion arena.
SUSTAINABILITY IS HERE TO STAY
Having lost the first half of the year to the pandemic, there are fewer and fewer mentions of "going back to normal". While few brands have declared bold moves, there almost seems to be an unspoken industry-wide consensus that business models need to be reshaped in order to get more robust, but also more sustainable.
"This crisis is definitely highlighting the challenges and gaps in the business model of fashion," confirmed Irene-Marie.
This time around, sustainability needs to play a central role in building more resilient and more relevant brands. "It is not something just for a niche market anymore," concludes Robert.
Listen to the full conversation here>>>>>
want to know more?
Get in touch with our professionals today
I am interested in