#SustainableAfter, Episode 3
Luxury brands should be going circular. Here's why and how
Three building blocks for brands to start on their journey towards circularity: customer experience reassessment, choosing the right resell partner and a reliable traceability solution
In conversation with Michela Puddu, CEO and Co-Founder at Haelixa Ltd – Felix Winckler, Co-Founder at Reflaunt Pte Ltd and Marta Waydel, Fashion Futurist
Have you spotted this stark contrast?
"The $2.5 trillion fashion industry will suffer double-digit losses for 2020, followed by a recessionary market and a landscape undergoing dramatic transformation", everyone – McKinsey included – seems to agree with the dismal forecast.
Yet, lo and behold – a few weeks ago, back in April, in the midst of one of the worst economic standstills ever, Vestiaire Collective, a marketplace of pre-owned fashion items, smoothly closed another big round of funding, raising $64.2 million.
So where does all this investor confidence stem from?
Over the last few years, the confidence in the resale / second-hand luxury market has been gaining momentum, leading to large funding rounds of the first-mover marketplaces in this space, such as TheRealReal, Depop, Fashionphile, ThredUP, etc.
Here are some hard facts and solid trends that justify this level of investor confidence:
• Resale has grown 21 times (!) faster than the retail apparel over the past three years;
• One in two millennials has bought second-hand over the last year;
• Secondhand is expected to be larger than fast fashion within 10 years;
• The shift to new ownership models is driven by a growing customer desire for variety, sustainability, and affordability.
So, although the aggregated outlook for the fashion industry, in general, is bleak at the moment, the secondhand fashion luxury market still appears to be a safe bet.
And that is where the opportunity lies for brands themselves: the real financial opportunity, but also the chance to assume control over their product afterlife, as well as the customer experience and loyalty that go with it.
Why it makes sense for luxury brands to start reclaiming the secondhand market
"Let me make this analogy. Ten years ago, many brands missed out on the digital opportunity and literally left the market to the online players, such as Farfetch and Net-a-Porter. [Today] brands should enter the secondhand market, not abandoning this opportunity to the third-party players", says Felix Winckler, Co-Founder of Reflaunt, a technology built for brands to help them reclaim the secondary market.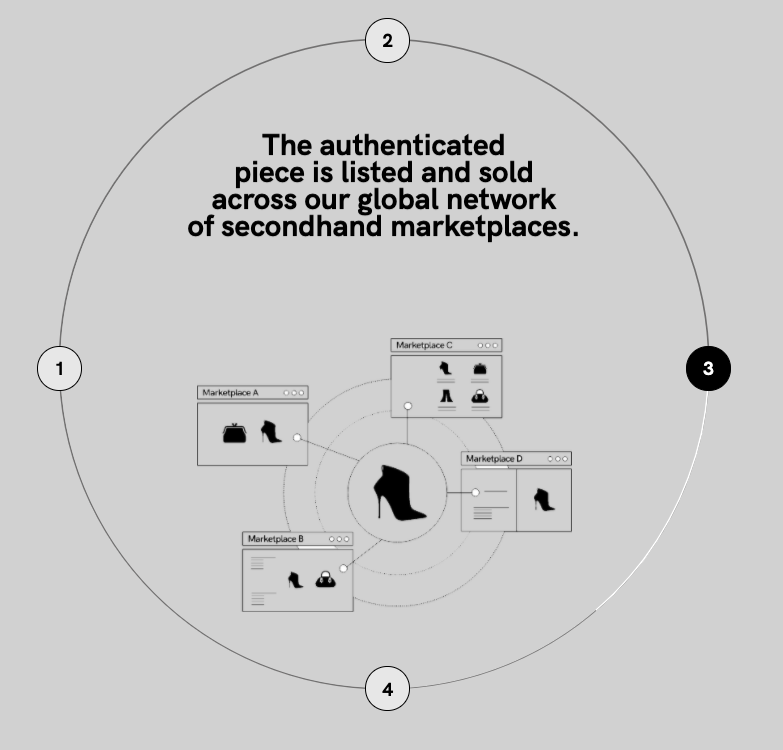 The reality is that the majority of brands get disconnected from their product after the point of sale. With the rising omnipresence of the second-hand marketplaces, the degrees of separation between the brand and its products multiply, with a part of the brand equity and customer experience absurdly being completely out of the brand's hands.
According to Felix, there is a solid case for brands to start reclaiming that space immediately.
First and foremost, it would be an opportunity to extend the customer experience, for instance through repair services given to the new product owners or though loyalty rewards to the initial owners for helping extend the product lifecycle.
Then, as highlighted at the beginning of this article, there is a real financial opportunity that the brands would be missing out on. It is a booming market and, although there are worries about diluting brand equity, brands could largely benefit form creating new avenues of reengaging with current customers, as well as the prospects.
By supporting and accompanying their first-hand customers in their product resale, brands could provide their full-price buyers with an ulterior validation that the product they are buying will have value a few years down the line, highlighting the product as an investment, as well as engage with them in new ways that could lead to new full-price purchases. This customer segment is usually characterised by well-off individuals who are not trying to "earn on the side", but are usually trying to free up space in their wardrobes in order to buy some more.
Finally, embracing circularity could allow brands to partake in the ever more important sustainability discourse with more stance and credibility.
"This trend is not here to stop. Whether the brands get involved in this market or not, this will continue to be predominant customer behaviour", underlines Felix.
Why is product traceability a critical factor in the circular economy?
Hand in hand with the concept of circular luxury goes the issue of traceability and transparency, identified by the United Nations Agenda for Sustainable Development as important tools to advance more responsible consumption and production.
Traceability is crucial for supply chain transparency, especially in the production phase, tracing textiles and their status during the manufacturing stages of the product, all the way to the retail floor.
It also plays a very important role in the product's post-purchase life, ensuring against counterfeit, allowing brands to reliably track item ownership and facilitating recycling decisions at the end of the product life.
This area has boomed in recent years. What is more, there seems to be a vast array of tracking solutions in the market, but very few standards that could help brands decide what to opt for.
"The way of doing this in the most cost-efficient, but also reliable way is to find a technology that is universal, which can be applied to almost all different kinds of materials and products", explains Michela Puddu, Co-Founder of Haelixa, a high performance tracing technology and tracer analysis solution, adding that "blockchain has definitely helped increase supply chain transparency."
However, she clarifies, the biggest drawback of blockchain is that it does not ensure true transparency in between the transactions that it records. Due to the fact that blockchain or other digital traceability systems are decoupled from the physical, real-life product. So, products might potentially get mixed up or replaced, in which case the recorded data does not represent reality.
"This makes the system vulnerable to fraud. Where we fill in this gap is by re-coupling the product information with the product itself. We turn the product into the carrier of information about its origin and journey."
For high-value products such as luxury items, a solution similar to this one could turn out to be very valuable.
Michela won the prestigious EU Women Innovator Prize for coming up with the liquid traceability solution that contains DNA-based markers with product information, By spaying the marker on the raw textile early on in the supply chain, it is built into the product, which makes it possible at any point to identify the product on the granular level and verify its origins, connecting them to a specific producer, specific farm, even lot number.
Where to start?
During the lockdown, there seems to have been a webinar too many about how virtual fashion could be the panacea for several of fashion's burning issues. Although the level of innovation in the field is impressive and certain changes have been long overdue, the reality is more complex than that.
"I don't think it is for everyone. [Brands] really need to look into their core, their customer base and try to connect better with them. Not everyone needs to have a virtual experience", suggests Marta Waydel, a fashion futurist.
Indeed, in these back-to-the-basics days, marketing should follow suit: enriching customer experience and increasing their lifetime value. In the given context, circularity seems to be quite an appropriate strategy to explore.
These are the major building blocks for fashion luxury brands who want to enter the secondhand market:
Three building blocks for brands to start on the journey towards circularity: customer experience reassessment, choosing the right resell partner and a reliable traceability solution
CUSTOMER EXPERIENCE REASSESSMENT. Have a good look at your customer base, brand values and commercial strategy. How does circularity fit into that picture? Which processes could be amplified and enriched by the introduction of a circular model, and – in line with that – what exact approach should you adopt?
CHOOSE THE RIGHT TECH PARTNER/PLATFORM. Get the right "button", i.e. choose the right partner or technology that plugs in seamlessly into your existent customer journeys, online and offline alike.
GET A UNIVERSAL TRACEABILITY SOLUTION. Tackle product traceability seriously and in a structured way, having both supply chain transparency and product afterlife in mind.
It is understandable that the brands' main focus at the moment is their cashflow. But, as going back to the good old business-as-usual is not happening anytime soon (if ever), the industry needs to look beyond and start redefining its customer relationships and creating new ones.
Marta concludes:
"Even though the times are difficult, this is probably the best reset point."
Listen to the full conversation here:
want to know more?
Get in touch with our professionals today
I am interested in